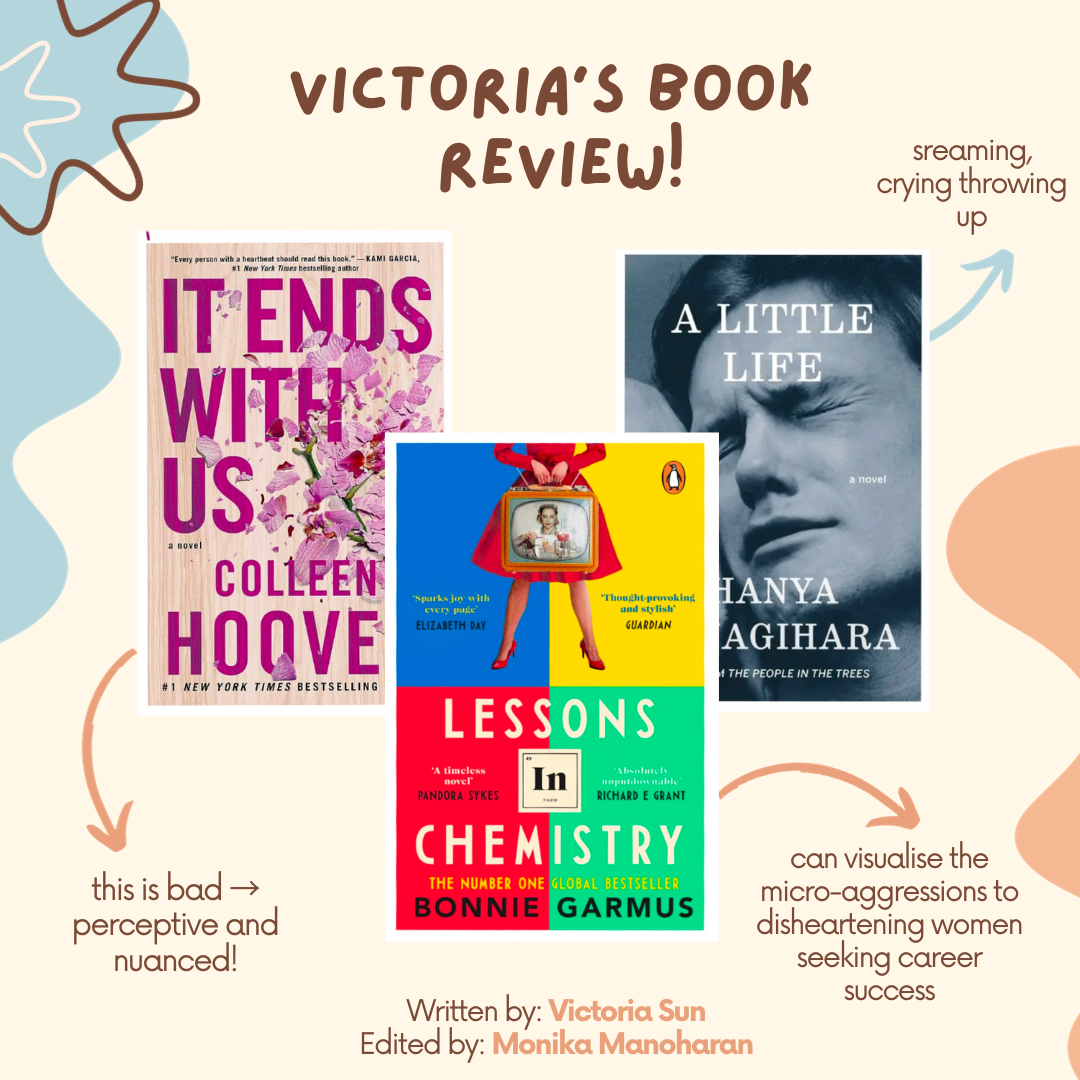 Read Time:
2 Minute, 1 Second
Written by: Victoria Sun
Edited by: Monika Manoharan
Book 1: Lessons in Chemistry
There are three things I love in a novel, and 'Lessons in Chemistry' delivered in all 3 of those areas:
1. Having a good time: oh this was such a lovely read. From the very start, I found myself captivated and laughing. The joy of the writing carried me even through the angry and sad parts.
2. Learning about the world: seeing a big societal issue, systemic sexism, from the lens of another person's life helped me better visualise the micro-aggressions that dishearten women who seek career success.
3. Learning more about how other people live their lives: the main character, Elizabeth, has a very distinctive personality; one that I've never seen in real life. The perseverance and confidence that she has is incredible. Still, Garmus' portrayal was nuanced enough that I was able to understand the perspective of someone who approaches life very differently to me. I definitely want to take Elizabeth's courage and perseverance with me!
Book 2: A Little Life
There are a lot of words–but every word not only adds to the story, but multiplicatively increases its quality as well.
Carrying the "does it ever get better?" question over the duration of the book is agonising, but I enjoyed that. Life is sometimes extremely painful, and in those times, it's comforting to have literature that reflects that reality.
For some readers, many scenes may touch on aspects that are too painful to read about in such detail, so it is definitely recommended to note the trigger warnings and put the book down if it gets too intense.
Book 3: It Ends With Us 
I found the start of this book horrific. The MC is 23 years old; her actions and thoughts would have been completely believable if she was still in high school, but she is a college graduate. If I wanted to read "Wattpad writing" I would have just gone there and read some fanfiction and at least that would have been enjoyable.
The book really shatters the head-empty mood in the second half, and becomes comparatively VERY perceptive and nuanced.
Unfortunately, it took reading this book to make me realise that the first question I think of with domestic violence is "why didn't you leave", which is the WRONG question.