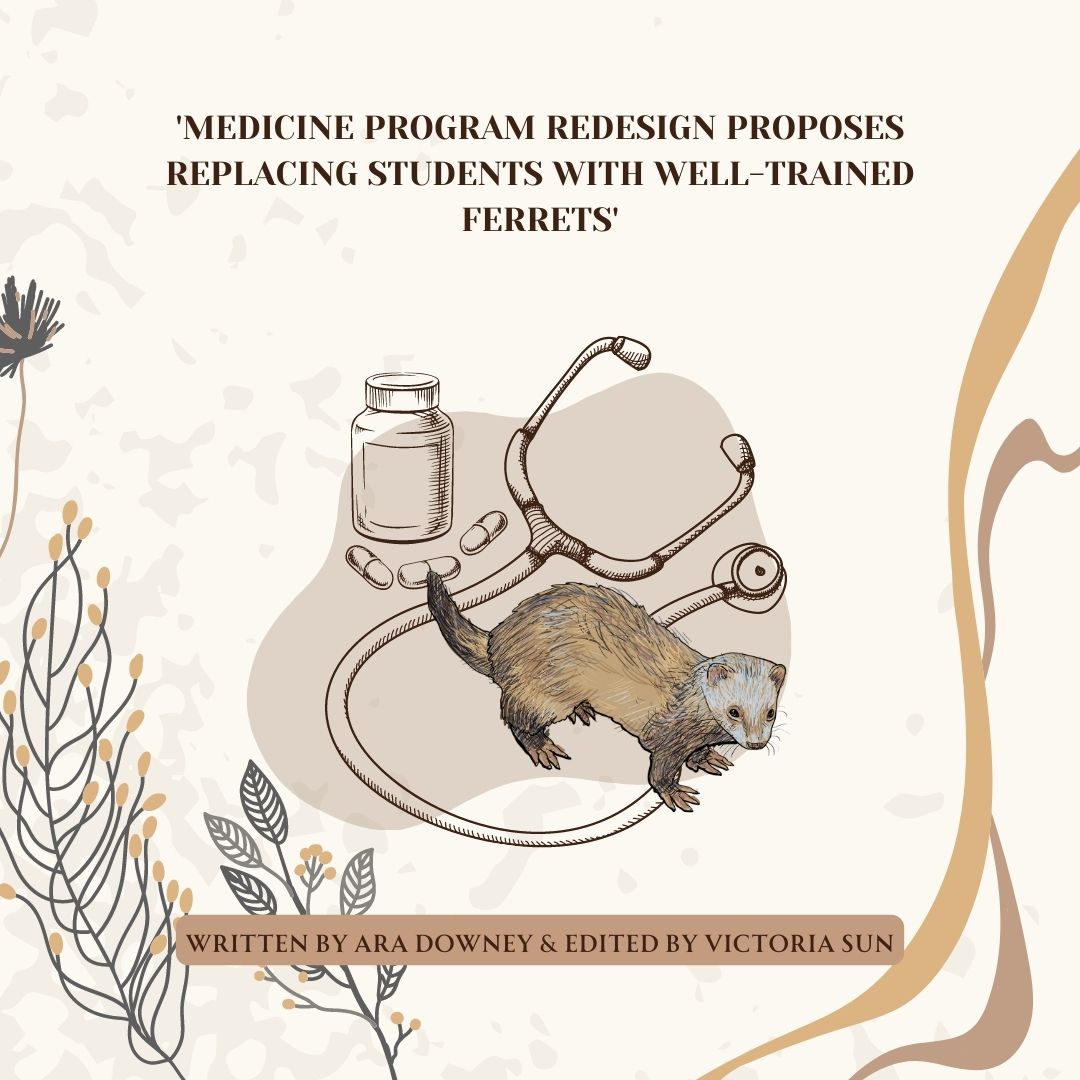 Read Time:
2 Minute, 47 Second
Written by Ara Downey and edited by Victoria Sun
In an unexpected departure from traditional teaching styles, the new Medicine Green Paper proposes replacing students with "well-trained ferrets":
"The shift from human students to ferrets is expected to increase the financial and logistical efficiency of our program without sacrificing the quality of teaching or learning. Students should be reassured that this applies only to incoming classes and current enrollment will not be affected (UNSW, 2023)."
Program convenors declined to comment on why they've taken this drastic step, but an anonymous source close to the faculty cited "size constraints" as the main reason for the change. It is believed that, with the Australian Government's goal to double the number of medical students by 2030, there is concern about the ability of Wallace Wurth to accommodate a program expansion. The decision to implement ferret students will ease this pressure and allow for up to 500,000,000 medical students to be taught at any one time.
The use of the term 'well-trained' has raised eyebrows, with many feeling that this specification could become a form of subtle discrimination.
"Who's to decide what counts as well-trained?" asked notoriously poorly-behaved second-year student Seth Clearwater*. "Sure, it starts with being toilet-trained, but it's a slippery slope — suddenly there's a ferret being told that they can't study medicine because they don't know how to juggle."
A spokesperson for the Faculty of Medicine and Health stated that "juggling is not considered an inherent requirement of studying medicine" but declined to provide further comments on the use of the phrase 'well-trained', instead providing a generic statement that "all ferrets will be subject to the same academic and interview screening process that humans currently undergo."
"I think this is great," said current student Jessica Stanley. "I've always felt that medicine is far too focused on the needs of humans. Hopefully by shifting away from human doctors, we'll stop being so obsessively focused on human patients."
However, not all opinions were positive.
"This is stupid," said recent graduate Mike Newton. "Seriously, can no one else see that this is stupid? How are they supposed to perform surgery with their tiny little hands? Soon they'll decide that ferrets are too big and we'll be a school for ants. Mark my words."
The Medicine faculty says that they are open to comments on the Green Paper. However, the removal of human-sized tables from Wallace Wurth rooms to prepare for the installation of ultra-small ones seems to indicate that this is a change that we're likely to see implemented sooner rather than later.
While UNSW is the first medical school to shift to non-human students, it's unlikely to be the last. Recently, the University of Queensland announced that enrollment would be open to "all species with opposable thumbs". While indirect, this change means a number of species such as orangutans are now eligible to apply for study.
Minister for Education, Jason Clare, stated: "Education is for all, no matter where you live, how you identify, where your family is from, what you aspire to do, or whether or not you're human." 

*Real names have been substituted with the names of minor Twilight characters.