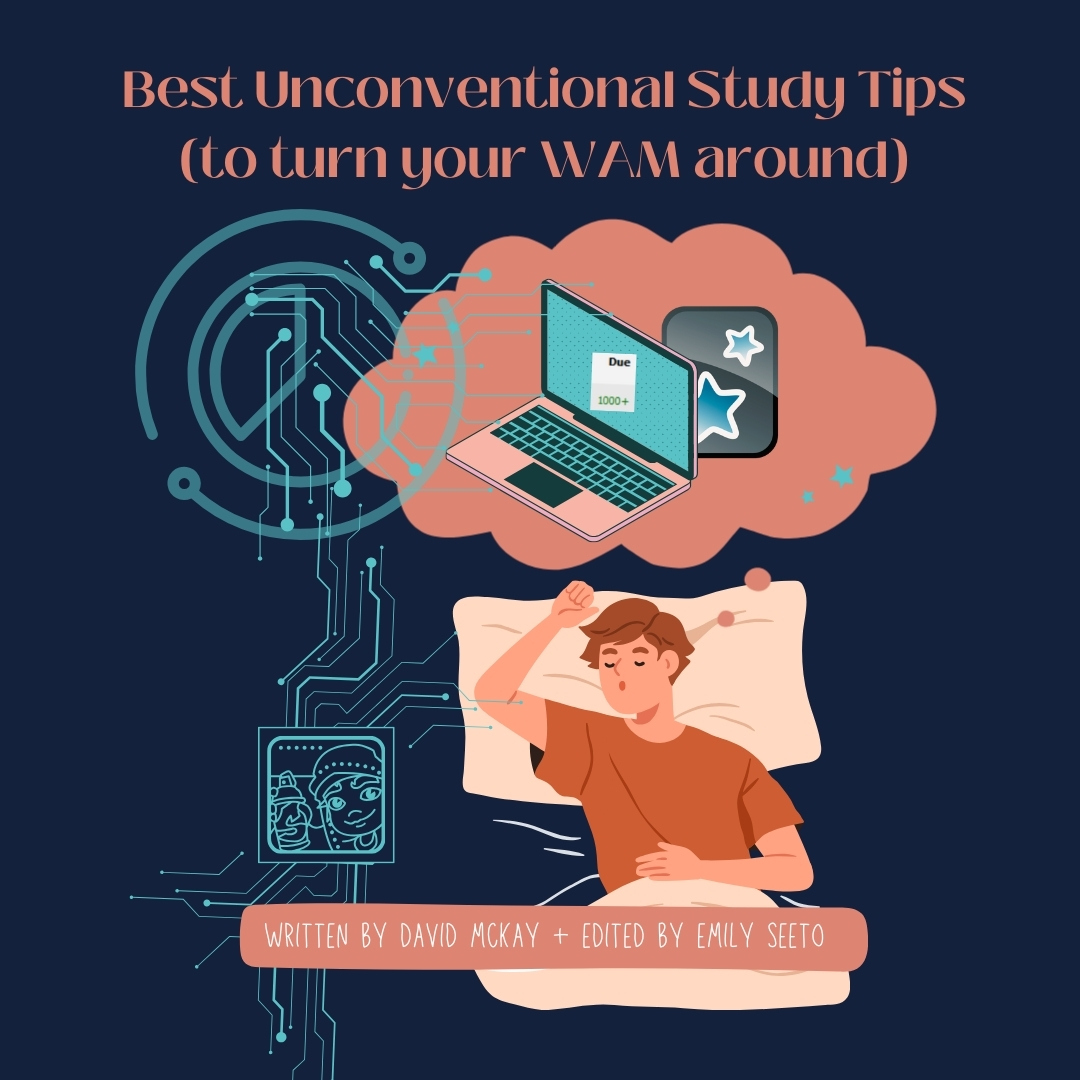 Read Time:
2 Minute, 46 Second
Written by David McKay and edited by Emily Seeto
Caption: Active recall? Don't know her. Past papers? Wouldn't have a clue. The quickest way to a HD is to ignore cliché medfluencer study tips and instead use these 4 Jugular-approved unconventional study tips to launch your WAM into orbit.
Anyone with any desire to achieve a passing WAM has probably stumbled across the same 3 study tips over and over again – active recall, do past papers, and pay attention in class. To this, I have only one comment. BORING! Some people (like myself) understand that the road to greatness is very rarely paved, and if you truly want a WAM that you can print out and frame, the most efficient pathway is to utilise unique study tips that others discard and laugh at. Use these tips at your own risk.
Tip 1. Subway Surfers™
Internet-wide social media algorithms have seemingly all reached the same conclusion; that the optimal way to keep someone's attention is to stick B-roll of subway surfers gameplay under random podcast clips. If media farms can use these techniques, why can't medical students? Get a spare screen and stick it next to your laptop whenever grinding through Anki cards – and watch your productivity improve tenfold.
Tip 2. Timelapse yourself studying
The Timelapse feature on the iPhone is very rarely used for anything of value, but in my desperation to find study techniques that work, I seem to have invented a new use that throws active recall out the window. Timelapse yourself studying over the course of a few hours (assuming your attention span hasn't been degraded by the aforementioned Subway Surfers gameplay) and, once you're finished, send the timelapse to your close family and friends to let them know how happy you are in medical school.
Tip 3. Lucid dreaming
We all know sleep is important for learning, but this one takes it to the next level. If you can learn the skill of having "lucid" dreams (i.e. one where you remain in control of your actions during a dream), then you can use this time to study while simultaneously racking up much-needed sleep hours. Mike Tyson used to wake up at 4 AM to train, motivated by the fact that all his opponents were sleeping while he was out exercising and honing his skills. You too can rejoice in this technique, knowing the rest of us are sound asleep while you're grinding imaginary Anki cards in your dreams.
Tip 4. Procrastinate
Everyone knows that the last 24 hours before an exam is when the stress really kicks in. Some students might use this time to go over topics they've missed, or catch a break to try and calm their nerves. However, if you simply refuse to study leading up to an exam, then your adrenal glands will go into overdrive when confronted with the stress of not studying for a test 24 hours before it begins. The superhuman powers granted by these unfathomable levels of stress hormones can lead you to covering vast amounts of content in a fraction of the time as all other students. While I recommend this as a purposeful tip, I think I find myself using this trick mostly by accident.