Read Time:
3 Minute, 13 Second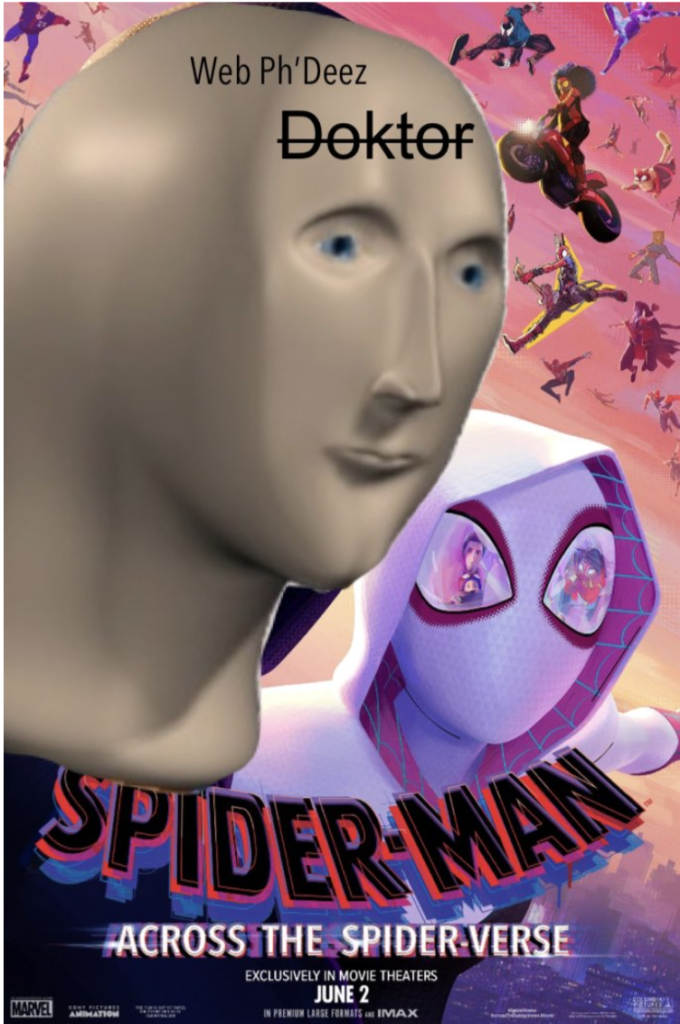 It is not a shocker that I am one of the many people who liked Spiderman: Across the Spiderverse – it is a great sequel film after all. However, I would like to claim that I am one of the very few who was willing enough to buy the cinema tickets three times over to rewatch the film. I still tear up during the heavy-hitting scenes of the movie, the subject matter and central themes being something I hold close to my heart. In fact, I have caught myself quoting lines from the film many times during my hospital days to my fellow peers, which unforunately they are slow to uptake. After many unnoticed quotes and having been taught by a tutor named very closely to Peter Parker, I have hit a climacteric point. I have taken matters to my own hands, ruminating on what could be MedSoc's very own Spiderperson…
Let's do this one more time
Their name is Web Ph'Deez. They were bitten by a radioactive spider during their anatomy practical during Foundies, and for the past five months, they've been the one and only Spiderperson and they're not the only one. They haven't always had it easy, juggling their double life at medical school and this whole superhero thing and they're not the only one. This is their story.
Canon Event
A few days after they were bitten, it occurred to them after an offhand joke a lecturer made, that Web MD is in fact not a credible source of information for his clinical studies. This came as an inconceivable remark – they have been using the site for years to self-diagnose themselves and their peers with great confidence – it was as though having a rug swept from under them. They were inconsolable for over two weeks, overcome with severe bouts of shame and mistrust.
Anomaly
On one of her many adventures between the two films, Gwen Stacy* finds the troubled Web Ph'Deez sitting in front of Wallace Wurth. Of all the spiderpeople she had come across, Web seemed to be in utmost turmoil because of their 'Uncle Ben' event. Feeling empathy , she talks to Miguel O'Hara about bringing them into the spider society, who begrudgingly agreed as Ben (Reilly) desperately needed another pal on his wavelength – and besides, maybe some additional medical knowledge might come in handy. Unbeknownst to Gwen, Web installs ChatGPT (their new homework helper) into their multiversal gizmo, which they have supplemented as their smart watch during hospital sessions. This allowed for the AI to learn about the multiverse, as well as the identities of all the other spiderpeople.
Canon Event #2 
A police officer Web had built a rocky, but 'amicable' relationship with over the past five months was soon going to be promoted to Captain – they were aware of Event ASM 90, and knew that they had to let the soon-to-be Captain attempt to save a child, and die trying. Luckily for them, Gwen was forming a team to help Miles Morales of Earth-1610 disrupt the canon in his own universe, which they immediately volunteered to be a part of, in hopes of also saving their own world's officer.
To Be Continued…
Epilogue
It was actually quite difficult to envision a realistic version of a medical student superhero, so I hope I did it justice. It only makes me appreciate the movie even more, given the many spiderpeople that were created for the intents and purposes of the film. Who knows? Maybe in the many shots of the newly created spiderpeople, there lies a spiderperson who is similar to Web Ph'Deez. Either way, that is for me to pick out on the nth watch of the film.
*If you don't know who these characters are, please watch the films